Yesterday, I outlined one of the biggest problems with HDR photography I've encountered since venturing down that road a couple of months ago: the dreaded halo.  The "fix" of getting around it is surprisingly simple, and I'll walk you through it with an image I recently edited: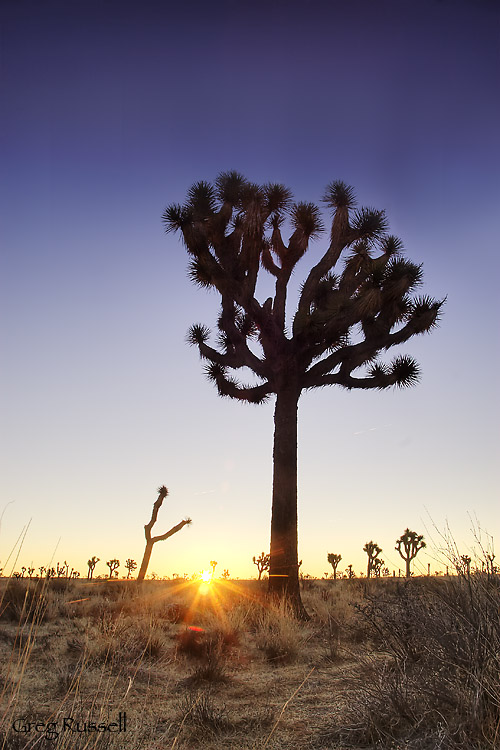 Sunrise, Joshua Tree National Park, California, January 2009
This is a 3-shot HDR that I processed just last week, after getting the courage to try HDR.  You might be asking why I'm not following through on the image I showed you yesterday.  Well, in the interest of full disclosure, I still haven't processed it.  However, I will follow the same workflow on that image as for this one. 
I won't post the source images, but I will post the tone mapped images.  For my workflow, I generally follow Royce Howland's suggested settings  for both the DE and TC methods of tone mapping.  With that said, here is the image tone mapped using the DE algorithm: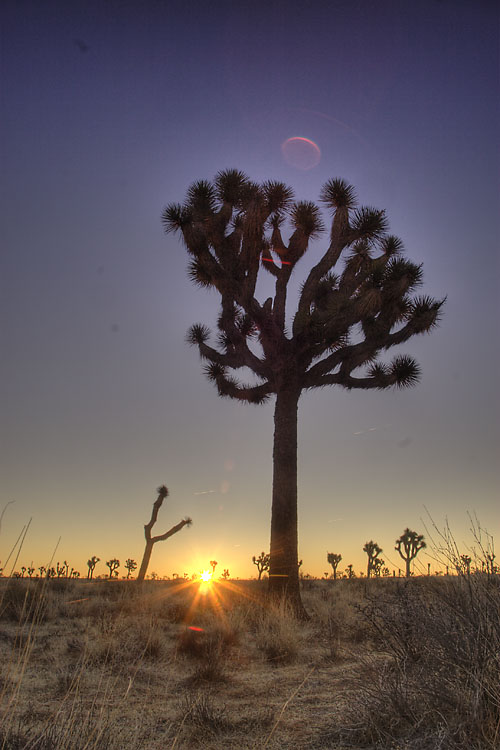 There is some lens flare that I'll later clone out, but do you see the halo around the joshua tree?  That light purple line all the way around the whole thing?  That's what we want to get rid of.  Other than that, this image doesn't look too bad; its lacking some midtone contrast, which is also characteristic of the DE tone mapping algorithm in Photomatix.
Now let's look at the other tone mapped image, the one done using the TC algorithm:
What do you see?  First you see that its very contrasty–almost too contrasty–especially compared to the other tone mapped image.  However, what you don't see is the halo!  The TC tone mapping algorithm does not give you a halo.  Good.  Now, we can open these two images in Photoshop and pick apart the best of both tone mapping methods.
I like to use the DE tone mapped image as my base image, and I copy and paste the TC image over the top of it.  The next step–the crux of this workflow–is to choose a blending mode for the TC layer that–at least mostly–eliminated the halo in the DC image.  I've had pretty good luck with Overlay, Color Burn, and Linear Burn, but probably the most success in Overlay.  Overlay multiplies the dark areas and screens the light areas, and logically would be good for eliminating the halo.  
Once you've settled upon a blending mode that looks more or less "natural", you will need to adjust the opacity slider to make it look even better.  On this image, I settled for 35% opacity.  
I hate to be anticlimactic, but once you're done blending these two layers, you're pretty much done and can edit the image like normal.  There was a little halo still left at the top of the joshua tree, so I selected the inverse of the tree and just closed the sky to look less halo-ish.   In addition, I cloned out some lens flare, and applied noise reduction (I use Imagenomic's Noiseware).  Other than sharpening and levels/curves I didn't do much to it.  One thing I've found is that I don't have to apply much saturation to HDR images–they look pretty good as is.
I hope that this has been helpful, and that you find it useful.  I'd love to hear feedback as you try this method with your own images!