For the last couple of Fridays, I've been welcoming the arrival of fall, and the last couple of weekends have felt very autum-like.  However, today its supposed to be 100+ degrees at my house, so its a not-so-gentle reminder that summer is still alive and kicking.  I am looking forward to my Sierra fall foliage trip in a few weeks though.  Many thanks (already) to G. Dan Mitchell and Inge Fernau for their advice on locations, and timing.  While I'm fairly familiar with the eastern Sierra, having never been there in the fall it is very nice have people like Inge and Dan who are willing to share what they've learned.  It helps greatly with the visualization (but not pre-visualization!) of compositions in my mind's eye.
Having gone through a couple of rounds of image editing with the input of other photographers over at Naturescapes.net as well as having been interacting with photographers about my trip to the eastern Sierra, I have to say that I feel very fortunate to be part of a photographic community who is willing to share as much as they do.  Guy Tal recently wrote about NOT feeling threatened by others' amazing work, but rather feeling inspired and fulfilled to be able to see it.  I have always felt the same way, and I'm glad so many others share the sentiment.
Darwin Wiggett announced his fall photo contest this week; the theme is Expressions and Interpretations. The date for entries is Oct 31 @ midnight.  Hmm…I'll have to think about this theme a little bit!  It will be challenging and fun to come up with an entry.
Here's the image I worked so hard on this week (special thanks to Bret Edge and Jens Peerman for looking at re-works):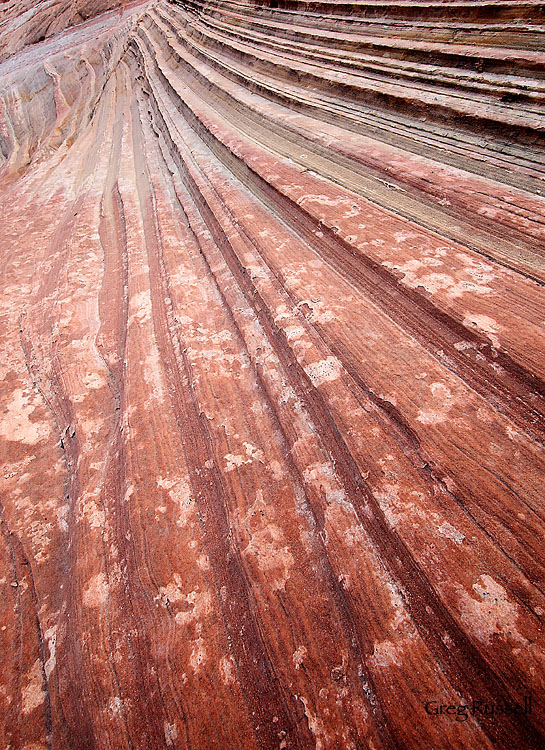 Sandstone detail, southern Utah, August 2009
Have a great week!