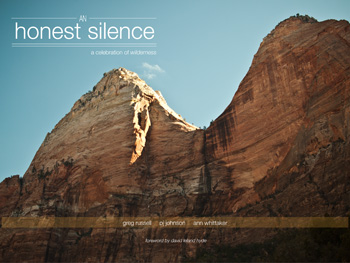 The day has finally come…Ann, PJ, and I are very happy to make An Honest Silence: A Celebration of Wilderness available for purchase.  We are offering the book as a 48-page, 25.1 MB , PDF download for $5.  A portion of the sales will be donated directly to the Southern Utah Wilderness Alliance.
You can download your copy now by clicking here, clicking at the "eBooks" tab at the top of this page, or clicking the "buy now" button at the bottom of this post.
This will be my 266th blog post here at Alpenglow Images, and I've learned over the last three years that there is something very gratifying about writing, but at the same time also scary.  When you write, you are putting yourself out there…letting the world in.  While we want to be accepted, we can easily be judged.
Because of the "risk" involved, the release of this book carries a genuine excitement with it; I hope you enjoy reading it.  I want to thank David Leland Hyde as well for writing the foreword; David works harder than anyone I know to perpetuate the legacy of conservation that began with his parents, Philip and Ardis Hyde.
This book represents three voices that are asking for more to rise up in the defense of wild places.  We need these open spaces, and cannot live without them.  If we are truly successful, you will be moved.  Moved to write a letter to a legislator in support of wilderness.  Moved take your children hiking.  Moved to spend an afternoon under a tree in your favorite wild place.
Will you celebrate with us?