I can remember being in a sporting goods store with my Dad when I was about 14 years old.  It's not clear to me exactly what he was looking at, but as he talked to the salesperson, I started looking at the pictures in a catalog sitting on the counter; it was for the clothing company The North Face.  In those pages I saw my first big wall climbers, my first mountaineers, and I discovered the Himalaya Mountains of Nepal and Tibet for the first time.  Fortunately the catalogs were free because I decided almost instantly that I was bringing one home with me.
Over the next several weeks I went to sleep and woke up with those photos–those places–on my mind.  In my daydreams I would fantasize about what it would be like to visit Everest base camp, or trek between Buddhist monasteries.  As I got older, my own adventures began, albeit much closer to my home in northern New Mexico than the Himalaya, and my mind started to wander to these places instead–the Colorado Plateau, and the high peaks of the southern Rocky Mountains.
Yet, to this day, I still find myself in awe of the Himalaya.  Although I hate the term, "bucket list," I guess you could say that someday before I die, I'd love to visit these mountains.  While I don't hold on to the adolescent fantasy of climbing Mt. Everest or K2 any more, I would love to take a trek though the lower elevations, admiring the scenery, as well as the culture.  As a photographer, I see the austere peaks as very beautiful subjects; they seem to create their own weather, which can make for dramatic light.  I enjoy viewing photography from this region; its relative inaccessibility results in an internet that is not flooded with "iconic" Himalayan images (for which I'm grateful).
Photography in the 21st Century leads to a lot of "online" friendships, and I'm grateful to have developed one with Alister Benn and his wife Juanli Sun.  Together, they are Available Light Images, and live together in Liajiang, China.   I have long been a fan of Alister's photography; his nighttime work is top notch (I reviewed his night photography eBook, Seeing the Unseen in March), and both he and Juanli have impressive images from the Himalaya.  How fortuitous it was that Alister and Juanli just published a free (that's right: free) eBook last week called, The Sacred Mountains of Tibet.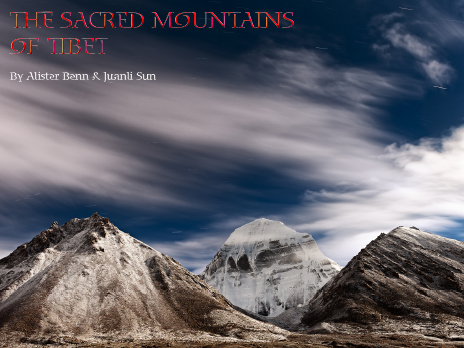 Unlike Seeing the Unseen, The Sacred Mountains is not text-heavy.  This is not a how-to manual; it is a celebration of place, written by two placed people.  A short introduction, and individual introductory sections to different regions make up the bulk of the text, but the real gem–the thing that sets this book aside in my opinion is Juanli's poetry.  Several of her poems appear on pages between images, bringing a better sense of belonging to the viewer (I use that word rather than "reader" because, again, this book is about admiration of place, not of the written word).  In addition to the cover, I've included two of my favorite images in this blog post.
The Sacred Mountains is the brainchild of a larger project; Alister and Juanli are planning on expanding this project and turning it into a printed book over the next few months.  I think this is a worthy project, and it would make a fine book, library-worthy for any adventurer, or photographer.
The only thing I found myself wanting in this eBook was more, but I suppose it was the perfect teaser for their (hopefully larger) book.  I'd like to thank Alister and Juanli for publishing this eBook, and for reminding me of my teenage dreams, awe, and respect for this mountain range.  It really is a lovely effort, and I highly suggest you settle in on one of these cold winter nights with the beverage of your choice, dim the lights, and let the light of the Himalaya fill you up.  You can download your free copy of the 51-page PDF by clicking here.