For August in the Southwest, the air is unusually humid.  Dark clouds are rolling in from the west as we walk into the wide, shallow canyon.  A narrow trails has been worn in the horsetail reeds; they rise up past my waist and I put my hands out, letting my fingers run along their tips.  The leaves of the cottonwoods that dot this canyon are moving faster and the cool air of the incoming thunderstorm acts as a natural swamp cooler.  After about twenty minutes of walking, I look up onto a sandstone outcropping and see what I've came here to visit–an 800-year-old Ancestral Puebloan ruin nestled into the cliff.
I've returned to this area of southeastern Utah for my first significant visit in nearly 15 years.  Growing up, my Dad and I spent many hours backpacking the wild canyons of Cedar Mesa, and for the last several years, I've longed to come back for a visit.  My motivations for returning–I suppose–are many.  I've returned to slow down, hoping to escape the nonstop movement in southern California.  Similarly, I have returned to revisit my past; as an adolescent, I have suddenly realized that I took many of my early wilderness experiences for granted.  Photographic motivations also played a role–I want images of these places that define me.
I think, ultimately, I've returned because this is my epicenter: this is the place I fell in love with the Colorado Plateau.  Light-colored Cedar Mesa sandstone with its bold desert varnish seemed to always be a part of my early wilderness experiences.  Its is part of me–occasionally when I accidentally cut myself, I look closely at the blood, perhaps hoping its become the color of the Organ Rock or Moenkopi shales that top the Cedar Mesa formation.  I've come back to pay reverence to the natural and cultural history of this landscape.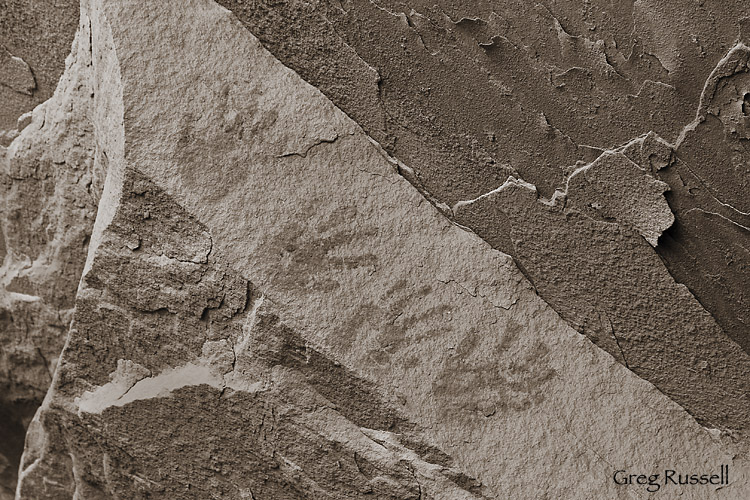 Paul Woodruff describes reverence as a virtue; the more reverence you have, the greater your capacity to feel respect, awe, shame.  As a visitor to the canyons of Cedar Mesa, all of these emotions are evoked inside of me.  I feel a deep respect for the Ancestral Puebloan people who settled here, multiple times, to make a living.  Although the landscape was likely different centuries ago, it was still a hot, dry place, but they made a living, farming the verdant canyons and carving out a life on the cliffs.  The work that went into these structures is tangible–look closely and you can see ancient finger and palm prints in the dried mud of their walls.  The forces that shaped this labyrinth of canyons are nothing less than awe-inspring.
Yes, one even can feel shame here, although it isn't necessarily a bad thing.  I am ashamed I didn't appreciate my early visits more, that I am just now realizing the full impact of the history available to us up on this small mesa in lovely, remote southeastern Utah.  Indeed, for the individual willing to open his heart and mind (and sometimes to close his mouth), these canyons can speak to you.