Wild Geese
You do not have to be good.
You do not have to walk on your knees
for a hundred miles through the desert repenting.
You only have to let the soft animal of your body
love what it loves.
Tell me about despair, yours, and I will tell you mine.
Meanwhile the world goes on.
Meanwhile the sun and the clear pebbles of the rain
are moving across the landscapes,
over the prairies and the deep trees,
the mountains and the rivers.
Meanwhile the wild geese, high in the clean blue air,
are heading home again.
Whoever you are, no matter how lonely,
the world offers itself to your imagination,
calls to you like the wild geese, harsh and exciting —
over and over announcing your place
in the family of things.
– Mary Oliver (1994)
---
Geese, with their cacophonous honking, have filled my dreams lately.
Earlier this month, I visited the Bosque del Apache National Wildlife Refuge with my dad.  In winter, thousands of Sandhill Cranes and Snow Geese converge on this area of south-central New Mexico to feed and prepare for their migration back north to nest; he and I have both always wanted to visit.
I admire several very talented wildlife photographers, and I can't even pretend to make images of birds on par with theirs.  However, I've always loved birds of all sizes, and as a friend recently pointed out, I'm one of "those" birdwatchers.  As Terry Tempest Williams writes, "The birds still remember what we have forgotten, that the world is meant to be celebrated."   How can one not be comforted by the dark green and snow white plumage of ducks, or admire their fidelity to place, migrating in a choreographed annual cycle that spans continents and is embedded in their genes?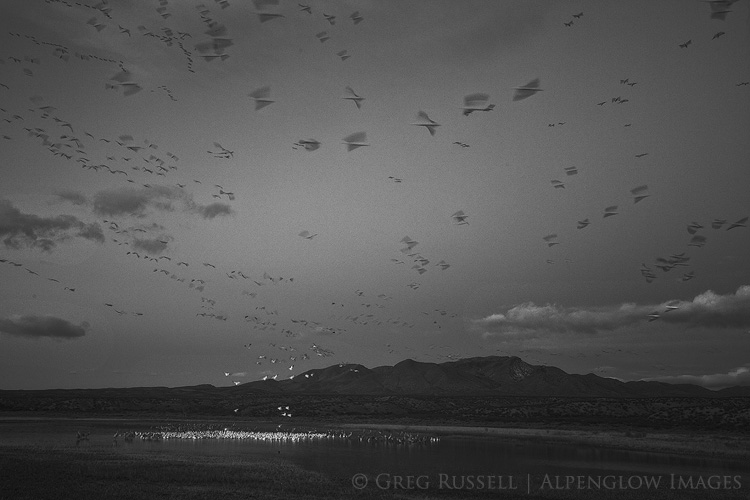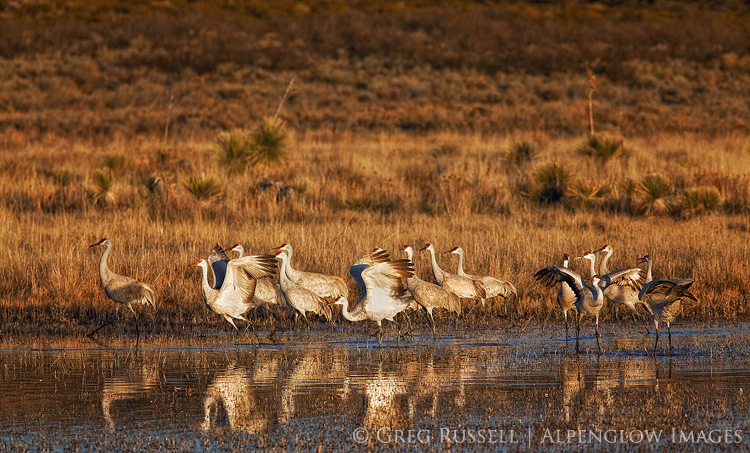 Even at the refuge, the daily cycle of the birds quickly becomes apparent even to the casual observer–en masse movements to and from the nighttime safety of water to daytime fields for what seems like a very conversation-filled meal.  Arriving with the focal length of a landscape photographer, I wanted to photograph the feeling of the place, rather than individual birds, to capture the visceral excitement of an evening fly-in or fly-out.
Top all of this off with a green chile cheeseburger at the Owl Bar, and it wasn't a bad trip at all.