I was really happy a couple of weeks ago to be contacted by Pablo Sánchez, who runs the website, El Paisaje Perfecto, a spanish language website about photography and conservation.  Pablo invited me to be featured in an article on black and white landscape photography, and the article was published today on his website.
Black and white images don't make up the bulk of my work, but they are an important part.  In my interview with El Paisaje, I said that for many photographers, black and white is an afterthought in the digital darkroom, as if color didn't work the first time.  However, I prefer to start out by visualizing an image in black and white in the field, and bring that through the entire post-processing workflow.  A well-processed black and white image can be very evocative, which is what draws me to black and white.
The ability to conceptualize a scene in the field then bring it to life in monochrome is a great way to exercise one's vision.  So too is the identification and isolation of the important components of the composition.  I made this image in August on a cloudy day along the North Saskatchewan River in Alberta, Canada.  As you enter the dramatic Icefields Parkway that connects Banff and Jasper National Parks, scenes like this are the low point of the scenery, but the forest and moving water drew me in.  After playing with several exposures to get the riffles in the river "right," I knew I had something that probably wouldn't hold up to snuff in color, but in black and white, the feeling of the impenetrable forest was certainly conveyed.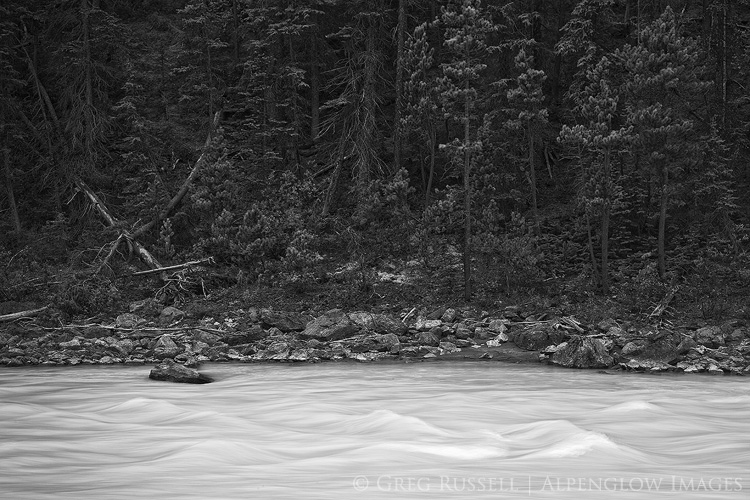 I hope you enjoy the article.  For more great black and white landscape photographers, see the work of Bruce Percy, Michael Gordon, and Bruce Barnbaum.