In 1542, two Spanish ships led by Juan Rodriguez Cabrillo explored the southern California coastline.  When they arrived in either Santa Monica or San Pedro Bay (it's unclear which one), they encountered poor air quality likely due to either smoke rising overhead from nearby Tongva villages, or from a Santa Ana Wind-fueled wildfire. They named the bay they arrived in Baya de los Fumos or Bay of the Smoke, for the lack of air quality.
Shaped by the Landscape
Nearly 500 years later, the greater Los Angeles basin is still known for its poor visibility and a nearly constant haze. Fires perhaps aren't as prevalent as they once were, and the villages have long since been bulldozed and replaced with a megapolis of concrete, home to millions of people. Myself included.
Southern California's topography is a major contributor to our poor air quality. Cool air being pulled onshore from the Pacific Ocean, warm air being pulled out to sea from the deserts flanking the region, and a basin closed in by tall mountain ranges all make for a fairly strong inversion that will often trap clouds, haze, and (unfortunately) pollution at low elevations in the basin. The haze Cabrillo and his men described is still a dominant part of life as many as 260 days a year.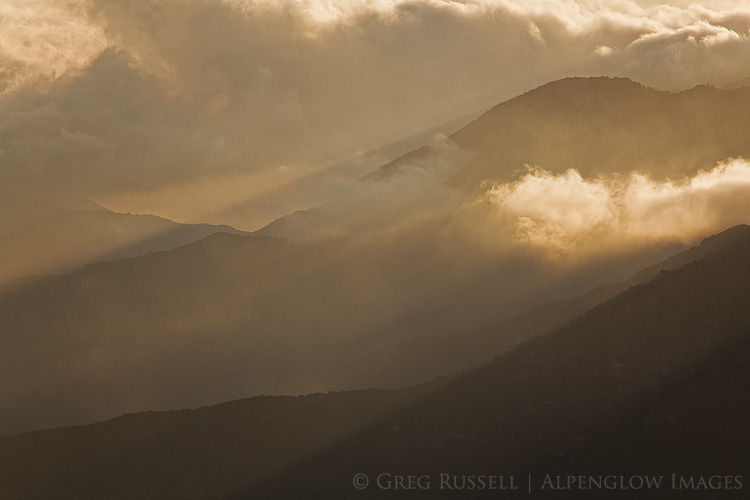 ---
"During my California visit, I enjoyed the company of fine friends whose grace and lack of complaint in their surroundings made me feel awkward and cynical and even envious…At meals they spoke intelligently of early Burgundian oenological monographs. I explained drip irrigation. Sea air and the presence of many, many succulent green leaves beautifully hydrated their skin. I looked like a desert lizard. I age my organic arugula with my fingers, dopey and slow like one of those Jurassic leaf-eaters with the pin head and the body the size of a truck stop." – Ellen Meloy, The Anthropology of Turquoise
---
Getting Above it All
Even after 14 years of living here, southern California has always felt a bit odd, if intriguing, perhaps in a way that Ellen Meloy describes above. I'm not entirely sure it's Los Angeles' fault so much as my own reticence to loosen my grip on my roots in the intermountain West. Fortunately, the nearby mountains make it relatively easy to put some altitude underneath yourself to get a breath of fresh air. In my last blog post, I mentioned the San Jacinto Mountains, which lie at the far eastern end of the basin.
Perhaps much more dominant on the Los Angeles skyline are the San Gabriels, one of the transverse ranges, running along the northern edge of the basin. Over the years, one of my favorite views of southern California has been to venture into the San Gabriels to look back down on the valley below.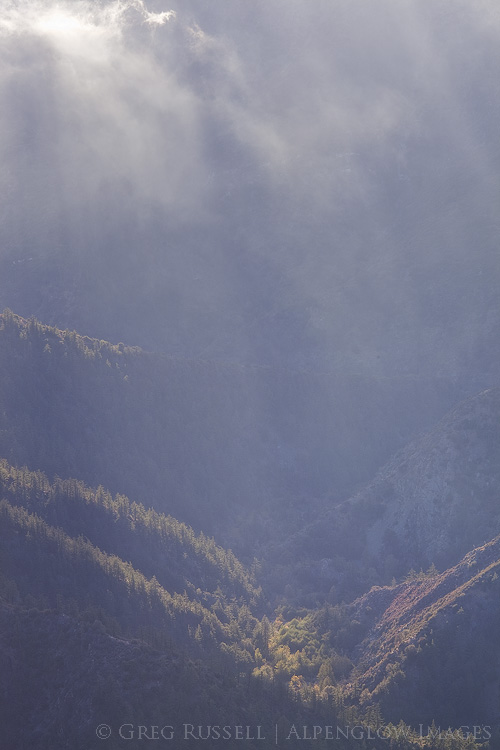 Despite the haze, Cabrillo described southern California as lush and green, with abundant wildlife. Much of that has been wiped clean by the growing metropolis (although there are efforts to bring it back), but it's still possible to get acquainted the southern California that was by returning to the mountains. Last week, we made a quick trip up to the San Gabriels after work. The clouds blanketing the coastal plain were hitting the mountains and fragmenting, making for a great atmospheric light show. That, combined with waning fall colors on much of the vegetation at 8,000′ elevation, made it a great day out.
As the sun set and the horizon shifted from shades of orange to red to blue, the wind stopped and there was complete and total silence. For a brief moment, hearing the dirt crunch underneath my feet and the cold air bite my nose, I forgot that the megapolis was just a little further below still. For the foreseeable future, I'll continue to try to find my place with the masses of the greater Los Angeles basin, but it's comforting to know that within an hour, I can be high above it all, seeing–perhaps–what Cabrillo saw in 1542.