"People do not merely select roles suited to their native talents and personalities.  They also gravitate to environments that reward their hereditary inclinations." — Edward O. Wilson, Consilience
---
After a long, painful, and torrential monsoon season soaked the Southwest, the Mojave Desert is greener than I've ever seen it.  The creosote almost glows in the midday sun as I drive up the long grade that separates the Colorado Plateau from the low desert.  For a fall day, it's still warm: nearly 80 degrees.  Finally after many months of other obligations, I'm able to come back for a visit.  Living in southern California, I go saying I miss autumn, but really I just miss the place.
The Colorado Plateau is characterized in part by its vast expanses of Navajo Sandstone; although other formations infiltrate here and there, the Navajo is predominant, and it has many voices.  In harsh summer light, it can appear white as snow.  It glows blue in moonlight.  During twilight hours it turns a creamy pink.   It can be completely red or streaked with 'desert varnish'; the redness is a continuum that depends on the amount of iron present, and the oxidation state of that iron.
Iron = strength.
I trust iron, and I come here when I need to be reminded of strength.  For some reason I have never been able to warm up to the sea like I have the high deserts and mountains of the southwest, and I don't look to it for solace.
A sense of place does not arise solely from a space, nor is it necessarily a direct function of time spent there.  Memories and experiences transform a space into a place.   I arrive on the Southwest edge of the Plateau, the first sandstone cliffs greeting me, and memories come flooding back to me.  I can look across a distant vista and remember individual trees, places where I have found bighorn sheep skulls, and the place I found so many Calochortus lilies that I wished I had brought my camera.  I even remember friends who have never been here with me except in spirit.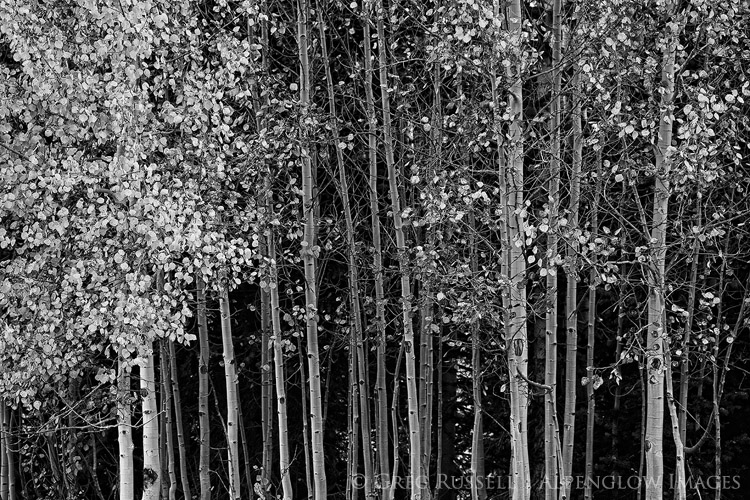 Autumn is a special time to be here.  The busy-ness of summer is leaving, families of tourists are back to their routines at home, and there is a heightened sense of peace.  In the high country, elk bugles make for a perfect alarm clock, and the breeze carries notes of winter, even on an Indian Summer afternoon.   In Navajo, October is called Ghąąji', which means "the joining of the seasons."  For them, it is a time to cultivate the richness of the season–summer's crops–while getting ready for the ceremonies of winter as well as the hardships that lie ahead.
Photographically, I have always struggled when I visit a location for the first time.   I find myself feeling hurried and stressed out, and as a result I cannot find a composition that feels right, cannot read the light, etc.  I just feel out of place.  Granted, sometimes magic happens, but most of the time it doesn't.  When I visit a place I know well, the opposite is true and I am relaxed, allowed to focus on the details of the place.  I find myself taking fewer images and there are times I may not even take my camera out of the bag.  I don't think I'm harboring an elitist agenda by only waiting for the "best" light, but I am simply content just to be.
Our world is wonderfully complex and so many things are interwoven.  All too often, we search for truths that are equally complex and intricate.  However, sitting on sun-warmed sandstone in autumn experiencing my own joining of seasons, I am reminded that some truths are simple.