Once I got to the ground, I laid down on the cold Navajo Sandstone, preparing to belay  my friends who would be joining me by rappelling over 300 feet into this remote canyon nestled deep inside the Colorado Plateau.  A few minutes ago, on the canyon's rim, the morning sun warmed me, but now as I lay on the cold rock inside of this deeply shaded crevasse, I become chilled quickly.  Laying on here, I quickly realize that sandstone makes a crummy pillow, and it is my body that is forced to conform to the curves in the rock, not the other way around.  Still, although I have never been to this particular place before, I feel comforted and relaxed by my surroundings and I wonder to myself, "How much is it possible to love a place?"
My friends have joined me now, and the rope has been retrieved.  In a sense, we are now cut off from the world.  For the next several hours, we will work our way through the obstacles in our path.  Of course we will laugh (a lot) and enjoy each others' company, but for me it is also a time of quiet contemplation, walking alone for brief periods as I soak up my time here.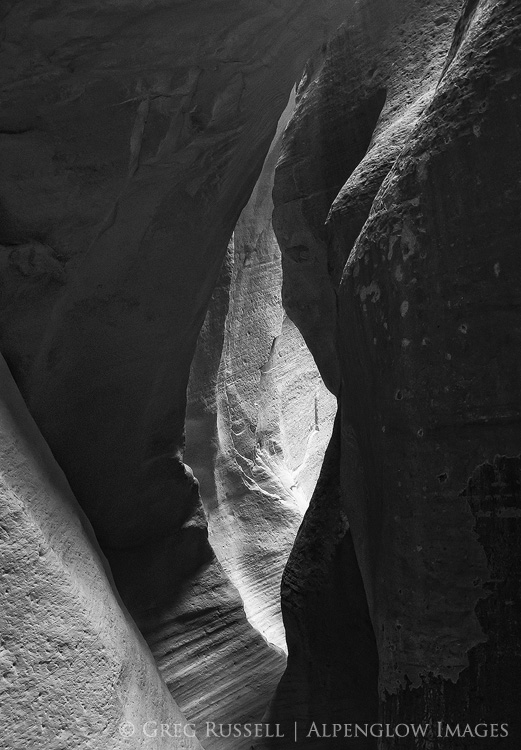 Inside of a canyon, we must embrace the notion that we are very small beings in a very large world.  It is one thing to be awed by a large ponderosa pine that has become lodged twenty feet up between a canyon's walls.  It's entirely another to return the next year only to find that the tree is gone, vanished.  Trying to understand the force that a flash flood exerts as it moves through a place like this is utterly impossible.  To escape from these forces inside of a canyon would be equally impossible: we would be crushed and our bodies washed away like the ponderosa pine.  Yet the rock endures, over time becoming more sensuously curved and beautiful in spite of (and because of) the nature of the destructive forces that shape it.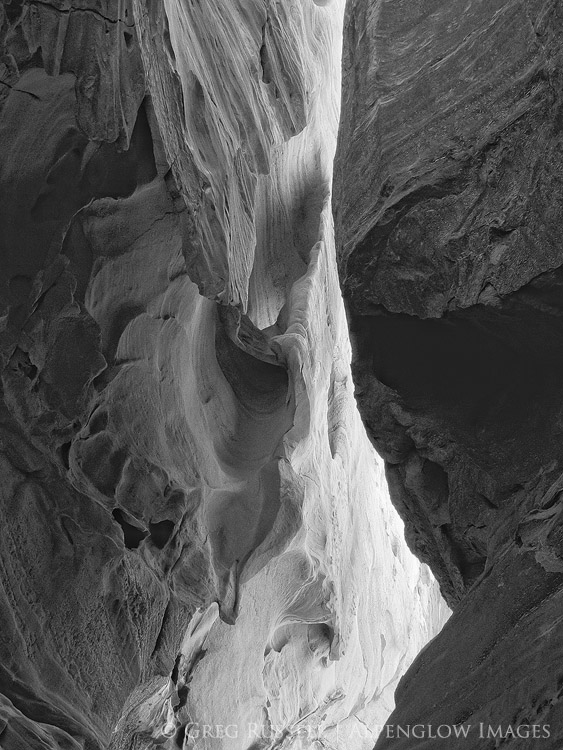 We spend much of our time in everyday life searching for the bigger picture.  As I walk through the canyon, I can see pine trees hundreds of feet above me, and  I know that the world is going on "up there," but I am not a participant in it today, however I have fallen into rhythm with the canyon, engaged in life down here.  There is something strangely liberating about surrendering to a world that rapidly–and voluntarily–becomes small and very focused.  As a reward for relinquishing my place in the world today, I am treated to some of the most sublime light imaginable.  Before my eyes, the canyon's walls shift between shades of red, orange, purple, magenta, and blue that seem to exist only in dreams.  I can feel the peace deep inside of my soul.
Visitors to pretty much any national park in the American southwest will get a taste of canyons, whether they look in from the top of the Grand Canyon, or upward at the towering sandstone cliffs in Zion.  Of the millions of visitors to these and other parks each year, very few will experience a canyon close-up, and still fewer will get to experience the silence that true solitude can offer in between these extraordinary sandstone walls.
I am, I'm unashamed to say, in love with this place.