The Wilderness Project is my photographic documentation of the federally-designated wilderness areas in Riverside County, where I live in southern California. In addition to several desert wilderness areas created by the California Desert Protection Act of 1994 (CDPA), Riverside County is also home to wildernesses in sky island mountain ranges like the San Jacinto and Santa Rosa Mountains, as well as sage scrub habitats like the Agua Tibia Wilderness, and I will photograph these as well. The goal of the project is to celebrate the diversity of landscapes we have set aside to protect, and to show them to people who may not be aware they exist.
What is a Wilderness?
A wilderness area, as defined by the Wilderness Act of 1964, is land that is
"…untrammeled by man…has outstanding opportunities for solitude or a primitive and unconfined type of recreation…" and "…shall be devoted to the public purposes of recreation, scenic, scientific, educational, conservation and historic use." 
Perhaps the best way to think of a wilderness is to understand that it is meant to be a roadless area, and is not to be developed*. This differs from national parks or forest, which have different use policies. Often, while looking at a map of a wilderness area (like the one below), you'll see that its boundaries are often drawn along roads; this avoids the road bisecting the wilderness.
In Riverside County, there are 19 wilderness areas that lie wholly or partially within county boundaries.  The map** below illustrates all 19 of Riverside County's Wildernesses, separated by management agency (click the map to see it full-sized).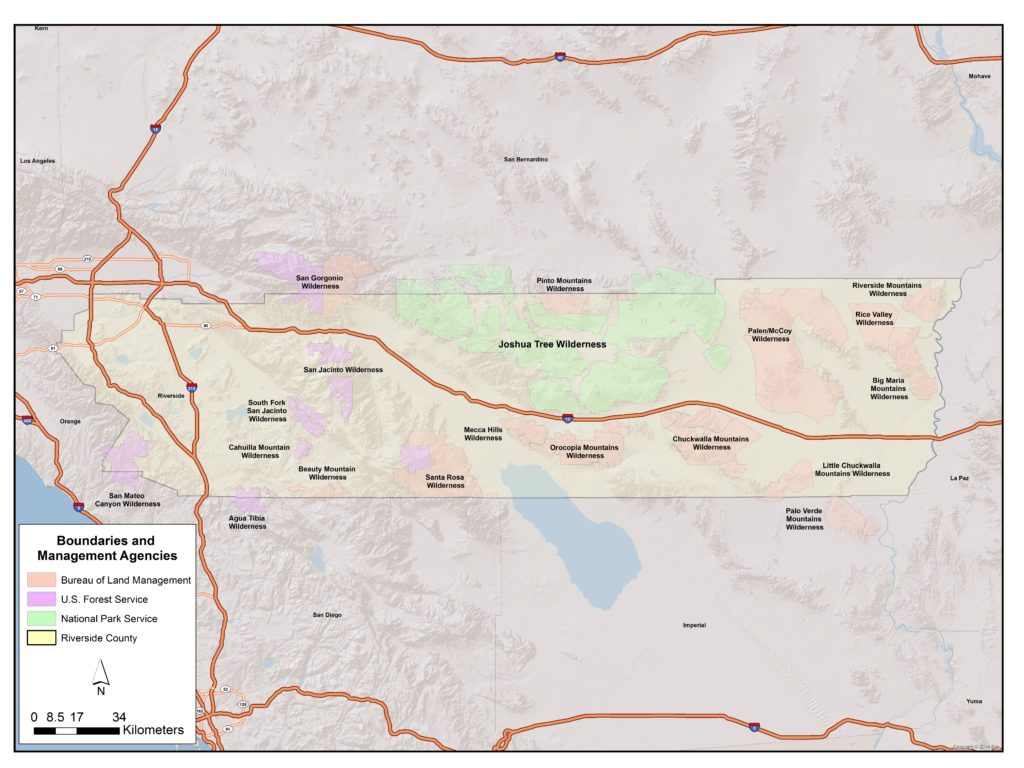 Much of Riverside County's wilderness was created by the CDPA
In October 1994, President Clinton signed the California Desert Protection Act  into law. A landmark environmental bill for its time, the CDPA expanded then Joshua Tree and Death Valley National Monuments, and turned them into national parks. The CDPA also created the Mojave National Preserve, two national wildlife refuges, and sixty-nine wilderness areas. The result of this massive bill was the protection of 7.9 million of acres of desert wilderness.
With the silver anniversary of the CDPA just around the corner in 2019, we have learned even more about the desert than we knew in 1994. We know that the Mojave Desert, which was heavily protected by the CDPA, is a major carbon sink, and uninterrupted swaths of desert plants can play a role in curtailing global climate change. We know that sensitive species like the desert tortoise and peninsular bighorn sheep will benefit from the CDPA.
We also know that although these lands are protected, they are not free from threats.  Energy development, climate change, and increased demands for military training and maneuvers are just a few things threatening our wilderness areas.
The Wilderness Project
Perhaps Howard Zahniser, the Wilderness Act's primary author, said it best:
"We deeply need the humility to know ourselves as the dependent members of a great community of life, and this can indeed be one of the spiritual benefits of a wilderness experience. … [T]o know the wilderness is to know a profound humility, to recognize one's littleness, to sense dependence and interdependence, indebtedness and responsibility."
We are at a time when we as a people are deeply out of touch with nature, and while we cheer for the protection of wild places, flora, and fauna, we do not truly know these places. The Wilderness Project has motivations that are rooted in my own sense of place–getting to know my own backyard–and in introducing people to these places.
In the blog posts that follow over the next weeks and months, I'll take you to Riverside County's Wilderness areas. While I want to bring these places to the forefront of our conversation on conservation, I hope you don't misinterpret this as a photo guide. I encourage you to chart your own path into these wonderful areas, for there is no greater thrill than the joy of discovery.
Thank you for joining me and for taking a look!
---
*When some of Riverside County's wilderness areas were created some mining claims were grandfathered in, so the county's wilderness areas are not entirely roadless.
**MANY thanks to Chris Quinn in the geography department at Orange Coast College for his GIS expertise in creating the map.