"You will then…quickly discover the music and poetry of these magnificent rock piles…each and all are the orderly beauty-making love-beats of Nature's heart."  — John Muir
---
Every so often a place will catch my eye and after just a little research, "Hmmm that place looks interesting!" turns into a bit of an obsession. This is probably why I've always liked maps so much: I can imagine what a place is like, and after I've been there, I can mentally put individual rocks and trees on the contour lines.  This obsession isn't driven so much by photography, but by how remote and unvisited it is.  There's something calming about unplugging and getting far, far away.
I've had my eye on the Coxcomb Mountains, a small but surprisingly imposing mountain range near the California-Arizona border, for a little over a year.  After they caught my eye, I started reading the few trip reports I could find, trying to correlate them with topographic maps.  In late January a friend and I made a long day hike into the range, and it was exactly what I'd hoped for: no trails, no sound, and no easy access point.  I returned a couple of weekends ago for an overnight backpack.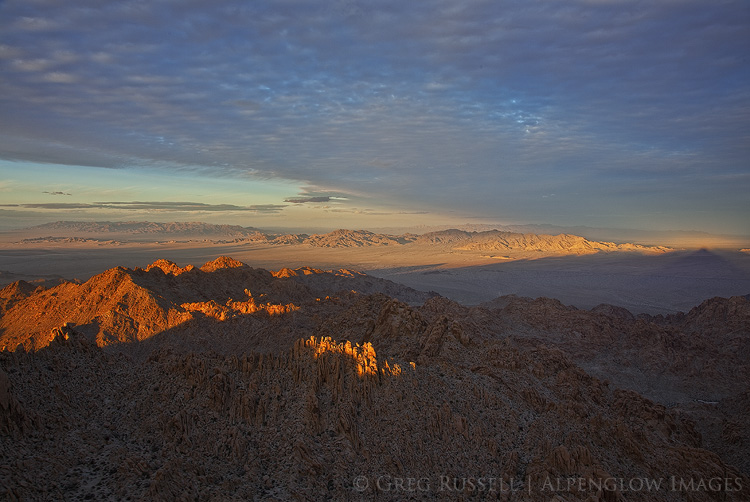 The mountain ranges in the Southwest deserts are basically very big piles of boulders–the Coxcombs rise over 3,000′ from the bajada.  Their canyons are choked with rocks and boulders that have come down from the high peaks during floods and winter freeze-thaw cycles.  There's a special kind of chaos here in the desert, and after being in places like this, it's no wonder that in Egyptian mythology Set is the god of both the desert and chaos.  Making a coherent photograph out of the disorder would require me to climb to one of the high points in the Coxcombs to confront Set on his terms.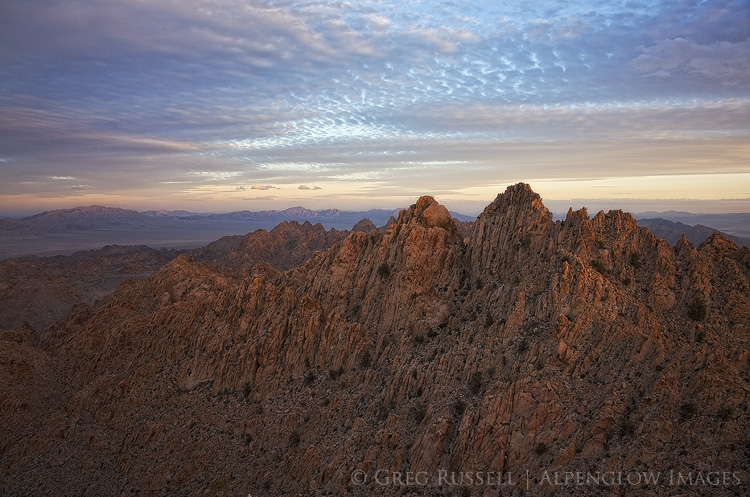 There's no available water to speak of in the Coxcombs, so I spent only one night, hauling in about six liters of my own water.  After a four-mile hike across the bajada, I started working my way up a canyon, towards Tensor Point, one of the three high points in the Coxcombs that make up "Aqua Peak."  The panoramic view from the top is impressive, and one can see the San Bernardino Mountains nearly 100 miles to the west, as well as ranges that stretch into Arizona.  Additionally, the views of the Pinto Basin, in Joshua Tree National Park, are outstanding.
After sunset, I spent a couple of hours with a somewhat pesky deer mouse, and finally fell asleep.  I woke up the next morning with no deer mouse but with a thick blanket of clouds.  After breakfast, I packed my gear up and arrived at the car just about the time rain started to fall on the desert in earnest.
I've never had much luck making any sense of the desert's jumbled boulder piles in a photograph.  While they're beautiful to look at, they've never translated well to photographic compositions for me.  Being on top of Tensor Point allowed me to step back from that chaos and compose images that seemed to make it all fall into place.  After a nine mile cross country hike through boulder piles and thick cat's claw, I realized that maybe to make sense of the chaos, you must fully immerse yourself in it.