"Sense of place is the sixth sense, an internal compass and map made by memory and spatial perception together." — Rebecca Solnit
---
Over the last several years, I've devoted much of this blog and my photographic efforts towards the Colorado Plateau.  More so than even the results I've shared here, I've devoted time and experience to the Plateau; no place I've visited has given me a more of a feeling of calm than that landscape of sinuous canyons, sandstone mesas, and petrified sand dunes.  That's why I return year after year without fail; every time I go back I hear my bones say, "I'm home."
I feel that the resulting images from my time spent on the Plateau are purpose-driven, grounded, intimate, and unique.  As an individual, no one else can see things quite like me, and I want my portfolio to reflect my own way of seeing.  Just like with any relationship, time has been invested to get to know the Plateau, as well as a few cactus pricks, scrapes, and bruises.
Because of my approach to photography, I've never been great at walking into a place for the first time and being comfortable making images.  I almost always experience some intangible awkwardness during the process.  How does place-based landscape photography translate to travel to distant locations, where a great distance has been traveled and the unlikelihood of ever returning again is small?  I recently found myself asking this question when my girlfriend and I ventured to Iceland for my first big trip away from the Southwest.  Tourism in Iceland has exploded in popularity over the decade or so, and I wanted to avoid making copies of everyone else's images; I wanted to see the country with fresh eyes.
Planning an appropriate itinerary is key.  While it's tempting to want to see everything, that is not conducive to thoughtful landscape photography.  We picked out three or four places that we considered 'must-see' locations and planned around them.  Anything more would have been difficult or impossible given the amount of time we had.
In concert with the logistics, I had to ask myself, "why is this a must-see location for me?"  Presumably the idea of it spoke to me in some way, so I proceeded to learn more about these places.  Iceland, like many European countries, has a rich history, so spending time to learn the stories of the places I wanted to visit helped me to tell the stories with my images.  Knowing the story behind many of the Icelandic sagas helped me to understand the culture and people, and reading about the geology of this ever-changing island also helped give me a sense of place.  As always, I had a map out as I did this, allowing me to connect the landscape with the stories.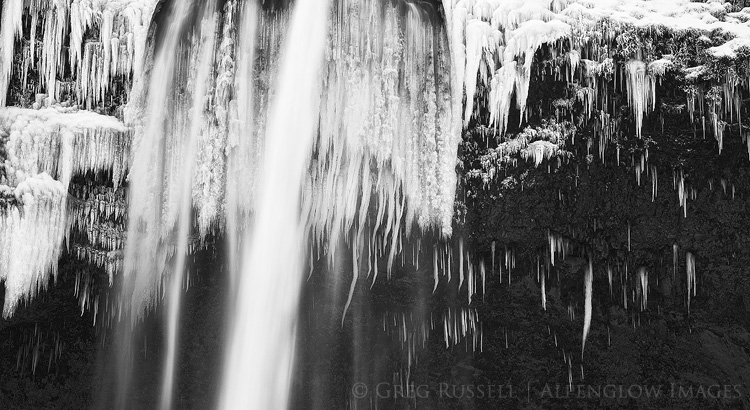 Being able to go back to Iceland would probably be of great benefit to me photographically.  However, the work I did before leaving home made me feel as though I had a connection to the place before ever setting foot there, which–in my opinion–made the photography that much more productive, enjoyable, and meaningful.  People and places make up the topography of our lives; the result is not much different than a landscape, with valleys and peaks, sunrises and sunsets.  My internal compass will always calibrate toward the Colorado Plateau and Southwestern United States, but I came home from my first international trip understanding that it is possible to connect with a place even if I may never visit again.
See all of my Iceland images here.